M40's Wilderness Survival Store - The best damn kits on the market, period.
All kits are hand assembled by me in my home, not by a villager in a Shanghai sweat shop!
---
NEW! - M40 "Scout" Compact Kit - $32.95 - Compared to other pocket kits, this one holds a LOT of gear. It fits in your back pocket, jacket pocket, pack, or glove box to provide extra assurance when trekking into wilderness areas. It's watertight, so also ideal for wet and wild situations.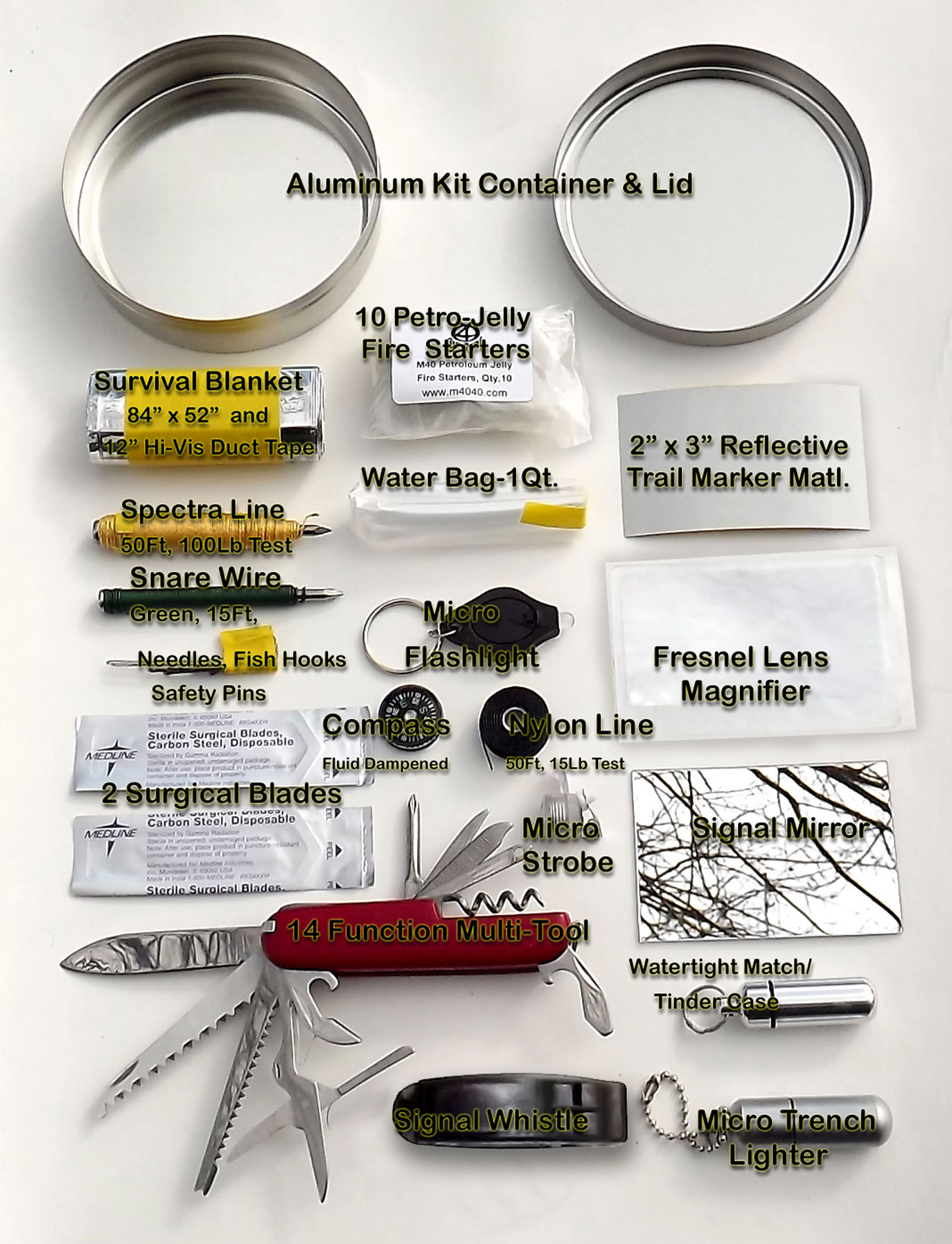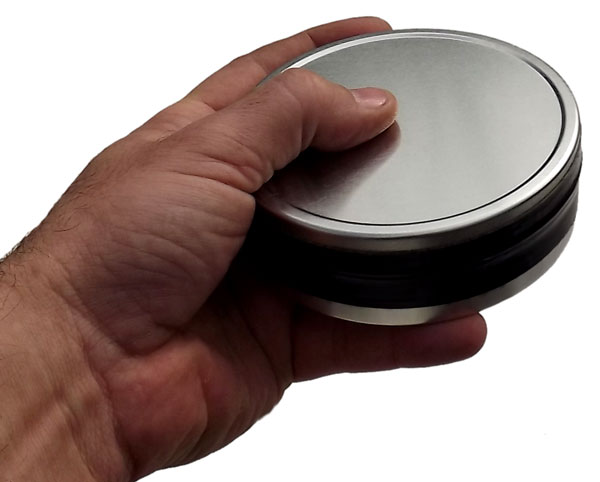 ---
Contents:
-1 Metal Cannister (used to protect kit, boil water, etc)
-1 84" x 52" Survival Blanket (doubles as tarp for shelter)
-1 Multi-Tool, 14 Function
-10 Petroleum Jelly Fire Starters
-1 Reflective Trail Marker Sheet, 2" x 3"
-50 feet Spectra Line (100Lb Test)
-50 feet Nylon Line (25Lb Test)
-15 feet Steel Snare Wire, Green
-2 Nails (double as spools for line and wire)
-3 feet Electrical Tape (doubles as airtight seal on kit container) -2 Scalpel Blades
-1 Foot Duct Tape (wrapped around blanket). Use for repairs, signaling, tool making, etc. Hi-Vis yellow
-2 Lg Sewing Needles
-10 Fish Hooks, various sizes
-1 Compass, small
-1 Flashlight
-1 Strobe Marker
-1 Quart Water Bag
-1 Fresnel Lens Magnifier
-1 Signal Mirror (2"x3")
-1 Micro Trench Lighter (aluminum)
-1 Watertight/Airtight Container (aluminum)
-1 Signal Whistle
---
FORUM 'RULE OF THREES'
Short Version - (1) Be Topical. (2) Be Original. (3) Be Nice.

Long version:
(1) Stay on topic - If the discussion wanders off topic or into nonsensical rambling, I will remove your comments. Repeated abuse will result in you being banned from posting here. If you post blatant spam here, I will ban you from this forum AND... I will submit you for removal from ALL Disqus forums.

(2) Be original in your postings. I will not tolerate lengthy cut and pastes, especially if you are not the author of said material. There is such a thing as copyright law, and I will quickly ban those who attempt to pass off the writings of others as their own.

(3) Please be nice... we all know what this means. I will not let those with "internet balls" turn my forums into gripe sessions, heated arguments or slanderous turd-hurling contests. There are no stupid questions... (okay maybe there are, but please remember that not everyone is a "survival expert"). Therefore, all questions should be considered valid as long as they meet the criteria of rules 1 and 2.
---
FORUM - M40 'Scout' Kit Discussion - NOTE - For discussion on a different kit/subject, please navigate to that subject's page and use that forum!
---
---
All Text, Graphics, Animations, Video, and Commentary on this website was created by, and is the intellectual property of m4040@m4040.com. All Rights Reserved. Unauthorized reproduction is punishable by up to a $500,000 fine or 5 years imprisonment for a first offense, and up to a $1,000,000 fine or up to 10 years imprisonment for subsequent offenses under the Digital Millenium Copyright Act (DMCA). Requests for use of this material should be forwarded to m4040@m4040.com. Why did I add this disclaimer? SEE WHY.