M40's Wilderness Survival Store - The best damn kits on the market, period.
All kits are hand assembled by me in my home, not by a villager in a Shanghai sweat shop!
---
M40's 'COAST' Kit

This kit works well in various pouches, or just toss one in your jacket pocket. Unlike many of my other kits, this one does NOT include a multi-tool. Most of you already have (and regularly carry) your favorite EDC knife or multitool. This kit was designed with that in mind, and makes the most use of the space available.

Price - $32.95/ea, or 3 kits for $90

Remember - There is a $40 minimum order policy. All prices include FREE expedited shipping. US orders only... NO OVERSEAS ORDERS!
---
Kit Contents
1) Stainless Steel Cup/Cook Pot with Watertight Lid – Used to boil/purify water, and to store the kit and protect it from damage and the elements.
2) M40 Micro Tarp - 4.5Ft. by 8.5Ft. – My smallest packing tarp yet. Big enough to make a quick pup tent, waterproof a shelter, or use as a poncho. Packs down to the size of a Zippo lighter!
3) Survival Blanket – Silver Mylar - 84" x 52" (Qty.1) – These are thinner and pack smaller than other survival blankets you may have seen. I sourced these specially for this purpose. Reflects body heat inwards to help keep you warm. Use as a signaling device, or to reflect fire heat towards you. Can also be used as a poncho, wind break or ground cloth.
4) Micro 'Trench' Lighter (qty.1) – Flint/fuel based refillable aluminum lighter has a screw top with a watertight/airtight gasket. These will run on pretty much any flammable liquid (gas, kerosene, Zippo fluid, Coleman fuel, lamp oil, alcohol, etc). These use standard Zippo style flints and wicks, so they might just last you a lifetime.
5) Watertight Aluminum Match/Tinder Case (qty.1) – Store tinder, matches, medications, etc… you decide. These are great little containers for those items that absolutely MUST stay dry.
6) Petroleum Jelly Fire Starters (10) – These light very well with a spark from the Ferrocerium rod, and each will burn for several minutes allowing you to easily start a fire, even in somewhat poor conditions. They come tightly packed in a small resealable zip bag. The petroleum jelly is also useful for treating chapped lips, dry skin and small wounds.
7) Ultra Bright Micro Light– White LED mini light that lasts a surprisingly long time, and puts out a LOT of light for its size. Provides both a squeeze activation and also an on/off switch for constant, hands-free light. In my testing these last about 24 hours each (16 hours bright, then slowly dimming for the remainder). Averaging a few hours use per night, and you'll have a couple weeks of light.

8) Strobe Light Signal Markers (qty.2) – A Multi-colored strobe light for signaling. flashes red and blue emergency colors, with white added for brightness. They can be seen from a long distance at night. In my testing, these last up to 48 hours (about 24 hours bright, then waning in brightness). That's a couple weeks signaling for several hours a night.
9) Braided SPECTRA Line 100Lb test - 25 Foot Spool - Stronger than Kevlar or steel, Spectra fiber is used in the latest bulletproof vests. Use as primary cordage for shelters, lashing, fishing, bow string, or anywhere else you need extremely tough cord. Spooled on a 10D nail, which is also useful for shelters and tools!

10) Steel Snare/trip Wire – (15 Foot Spool) - Annealed steel wire at the perfect hardness for making small game snares. Also use for trip lines, repairing/making gear, etc. Spooled around a 10D nail. The nail is also useful for shelters, spear tips, etc.
11) Liquid Filled Button Compass - filled with mineral oil for movement dampening, and freeze-proof.
12) Spool, 15 Lb test Nylon Line – approx. 100 feet - Used for fishing, sewing, shelter bindings, etc.
13) Sterile Surgical Scalpel Blades (Qty.2) - Sharp, sharp, sharp! These can be lashed to a small twig for use in skinning, gutting, cleaning, etc, and they also serve as formidable arrow/spear tips.
14) Bandages (Qty.2) – Your basic large 'Band Aid' type bandages. Self Explanatory.
15) Ultra-reflective 'Cat-eye' Trail Marker, Adhesive, 3"x2" Piece (cut in half to fit in this kit) - This is the same glass bead impregnated material used in street signs and other 'retro-reflective' safety gear. When cut into quarter inch squares, this yields almost a hundred stick-on trail markers. Using the mini lights, these can be seen from 50 yards. The brighter the light, the greater the distance and visibility. Placing these at 50 yard intervals, you can mark about 3 miles of trail.
16) Zipper Lock Water Bag (1Qt) - Use for storing, transporting, or collecting water. Also used as a dry bag for your personal items (cell phones, GPS, etc).
17) Fish Hook Assortment – Qty. 1 Dozen - Various Sizes – Can be used individually, but I recommend using most or all of these at once along a single line (see Absentee Fishing).
18) Needles, LG, (Qty.2) - These are large, thick needles with big eyes. You wouldn't want to attempt fine embroidery with these, but I spec'd them big enough to be threaded and used with cold hands.
19) Safety Pins, XLG, (Qty.3) - these are large (2 inch) nickel plated safety pins. Great for fast emergency repair of tears to jackets, clothing and other gear.
20) Duct Tape, Hi-Vis (2 Feet) – This is quality 3M/Scotch brand duct tape in Hi-visibility yellow. Ultra sticky, perfect for repairs, signaling and for marking trail.
---
$32.95/ea, or 3 kits for $90
Remember - There is a $40 minimum order policy. All prices include FREE expedited shipping. US orders only... NO OVERSEAS ORDERS!
---
SUGGESTED POUCH SETS FOR COAST KIT
Modular Drop Leg Panel and 3 Pouch Set - $24.95
This pouch set includes a drop leg MOLLE panel and 3 pouches. The large pouch is a utility pouch that will fit the COAST kit with room to spare or will fit my larger cook pot based kits with very little room to spare. The main pouch also has a variety of interior and exterior pockets to stash extra gear. The smaller two pouches are ideal for a knife or multitool, and to carry a cell phone or small 2-way radio or GPS.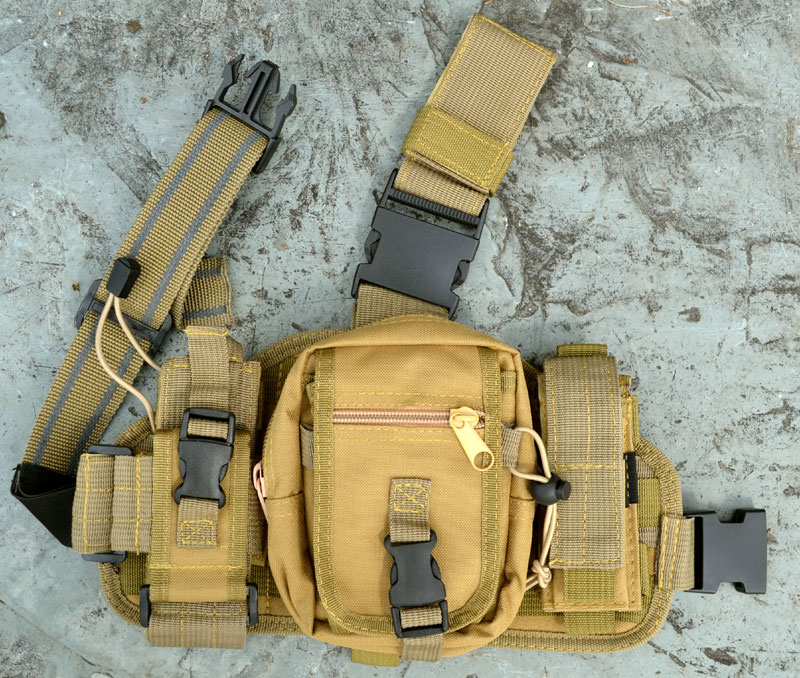 NOTE: These come in your choice of color - Coyote Tan (shown above), OD Green, or Black.
---
.
Remember - There is a $40 minimum order policy. All prices include FREE expedited shipping. US orders only... NO OVERSEAS ORDERS!
---
FORUM 'RULE OF THREES'
Short Version - (1) Be Topical. (2) Be Original. (3) Be Nice.

Long version:
(1) Stay on topic - If the discussion wanders off topic or into nonsensical rambling, I will remove your comments. Repeated abuse will result in you being banned from posting here. If you post blatant spam here, I will ban you from this forum AND... I will submit you for removal from ALL Disqus forums.

(2) Be original in your postings. I will not tolerate lengthy cut and pastes, especially if you are not the author of said material. There is such a thing as copyright law, and I will quickly ban those who attempt to pass off the writings of others as their own.

(3) Please be nice... we all know what this means. I will not let those with "internet balls" turn my forums into gripe sessions, heated arguments or slanderous turd-hurling contests. There are no stupid questions... (okay maybe there are, but please remember that not everyone is a "survival expert"). Therefore, all questions should be considered valid as long as they meet the criteria of rules 1 and 2.
---
FORUM - M40 COAST Kit Discussion - NOTE - For discussion on a different kit/subject, please navigate to that subject's page and use that forum!
comments powered by
---
---
All Text, Graphics, Animations, Video, and Commentary on this website was created by, and is the intellectual property of m4040@m4040.com. All Rights Reserved. Unauthorized reproduction is punishable by up to a $500,000 fine or 5 years imprisonment for a first offense, and up to a $1,000,000 fine or up to 10 years imprisonment for subsequent offenses under the Digital Millenium Copyright Act (DMCA). Requests for use of this material should be forwarded to m4040@m4040.com. Why did I add this disclaimer? SEE WHY.