M40's Wilderness Survival Store
Custom Wilderness Survival Kits, Blades, DIY Kit Items, and Unique Survival Gear Questions? Email: m4040@m4040.com
---
---
---
Double Trouble kit Modified per Scott Stevens Specifications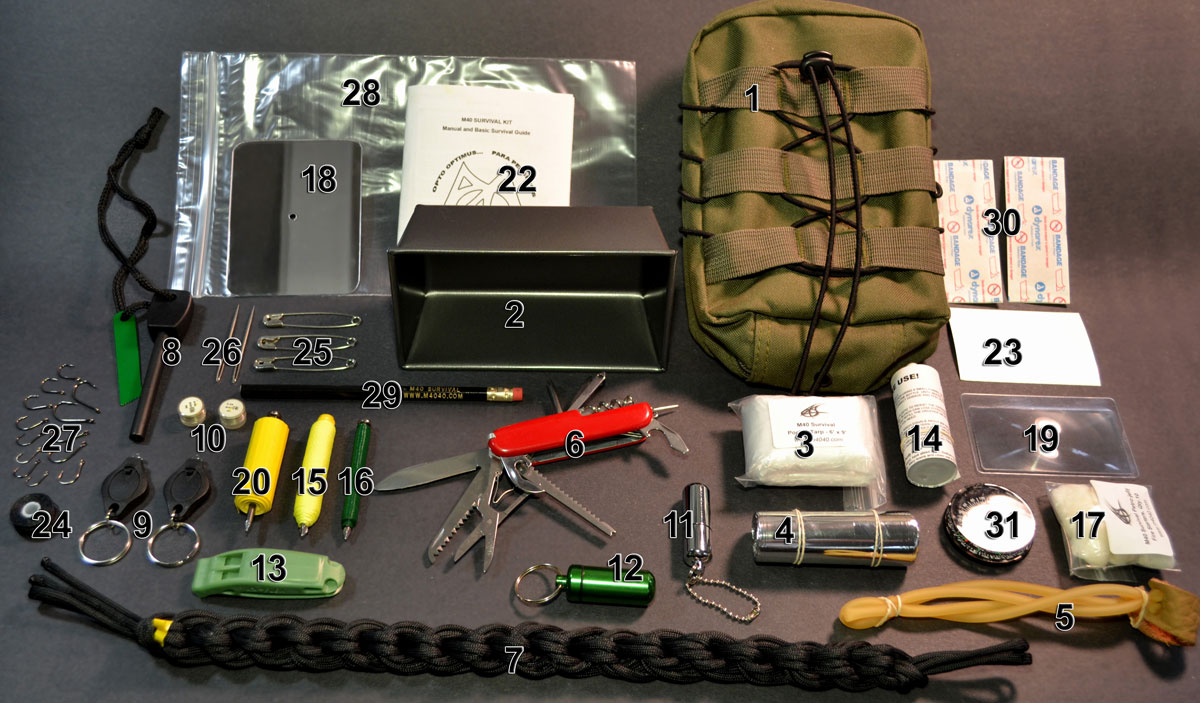 Double Trouble kit Modified per Scott Stevens Specifications - Quantity, 1 Kit - $75
Quantity, 5 Kits - $350 ($70/ea)
Quantity, 10 Kits - $650 ($65/ea)
Quantity, 15 Kits - $900 ($60/ea)
Quantity, 20 Kits $1,200.00 ($60/ea)
Quantity, 25 Kits $1,400.00 ($56/ea)
(Prices include expedited Shipping, 3 business days)
Lead time is approximately 24 hours for 1-5 kits, and 48-72 hours for 10 or more kits
KIT CONTENTS
1 - EMT style MOLLE Pouch – Heavy Duty Belt Pouch - Will fit the kit items shown below with plenty of extra space left over to add your additional items.
2 - Non-Stick Cook Pot (Qty.1) – Rigid steel construction with non-stick coating. Stores the kit contents and protects them from damage. Quickly boil and purify drinking water and for general camp cooking tasks.
3 - M40 Pocket Survival Tarp – 9' x 6' (Qty.1) – Large enough to cover and waterproof a shelter for several people, yet folds smaller than a deck of playing cards. You won't find anything like this in other survival kits.
4 - Survival Blanket – Silver Mylar - 84" x 52" (Qty.1) – Reflects body heat inwards to help keep you warm. Use as a signaling device, or behind a fire to reflect heat into a shelter. Can also be used as a poncho, wind break or ground cloth.
5 - Slingshot Bands (Qty.1 set) - These make it VERY easy to quickly construct a slingshot using a forked stick. Also used as a tourniquet or to propel a fishing spear.
6 - Multi Tool (qty.1) – Stainless steel knife/tool set provides blade, wood saw, can & bottle opener, file, screwdrivers, scissors, awl and many other tools.
7 - 25Ft. of Para Cord, 550Lb test - 7 inner strands at 50Lb test and outer sheathing at 200Lb test. A million uses!
8 - Ferro Rod and Striker (qty.1) – about 3/8" diameter by 3" long striking surface. Metallurgy designed with extra magnesium so you can shave it for tinder as well as sparks. Make a small pile of shavings, then spark it to make a white hot flame.
9 - Ultra Bright Micro Lights (qty.2) – Very bright and have both squeeze activation and an on/off switch for constant, hands-free light. In my testing these last about 24 hours each (16 hours bright, then slowly dimming for the remainder).
10 - Emergency Signal Strobes (qty.2) – A Multi-colored strobe light for signaling. flashes red and blue emergency colors, with white added for brightness. Each lasts up to 48 hours (24 hours bright, then waning in brightness).
11 - Micro 'Trench' Lighter (qty.1) – Flint/fuel based refillable aluminum lighter has a screw top with a watertight/airtight gasket. Runs on pretty much any flammable liquid.
12 - Watertight Aluminum Match/Tinder Case (qty.1) – Store tinder, matches, medications, etc… you decide.
13 - Emergency Signal Whistle (qty.1) – A loud, dual tone whistle for signaling to rescuers or trail companions. Durable construction, and a built in pocket clip and lanyard hole.
14 - Water Purification Kit with Dosage Instructions (qty.1) - Will purify about 70 gallons of water. You fill and refill this dropper as needed... full instructions provided.
15 - Braided SPECTRA Line 100Lb test - 50 Foot Spool - Stronger than Kevlar or steel. Used as primary cordage for shelters, bow strings, lashing, fishing, etc.
16 - Steel Snare/trip Wire – (15 Foot Spool) - Annealed steel wire at the perfect hardness for making small game snares. Also use for trip lines, repairing/making gear, etc. Approximately 15'..
17 - Petroleum Jelly Fire Starters (10) – These light very well with a spark from the Ferrocerium rod. Each will burn for several minutes, even in poor conditions. Also useful for treating chapped lips, dry skin and small wounds.
18 - Signal Mirror, 3" x 4", Acrylic (Qty.1) - Large acrylic signal mirror with sighting hole for aiming.
19 - Fresnel Lens Magnifier (Qty.1) - Credit card size. Used to start fires or close up inspection.
20 - Duct Tape, Hi-Vis (5Foot Spool) – Quality 3M/Scotch brand duct tape in Hi-vis yellow -repairs, signaling, marking trail.
21 - 10D Nails (Qty.3) - Spectra, Snare Wire and Duct Tap are spooled on 10D nails, useful for shelters, hunting tools, etc
22 - Kit Manual, Basic Survival Guide and Note Pad – 24 pages printed on waterproof paper. 18 pages of small print info with diagrams and easy to use instructions and pointers, and 6 pages reserved for your notes.
23 - Ultra-reflective 'Cat-eye' Trail Marker, Adhesive, 3"x2" Piece
24 - Spool, Heavy duty 25 Lb test Nylon Line – approx. 50 feet - Used for fishing, sewing, shelter bindings, etc.
25 - Safety Pins, XLG, (Qty.3) - Large (2 inch) nickel plated safety pins. Fast emergency gear repairs.
26 - Needles, LG, (Qty.2) - Large, thick needles with big eyes.
27 - Fish Hook Assortment – Qty 12 - Various Sizes.
28 - Zipper Lock Water Bag (1Qt) - Use for storing, transporting. or purifying water or as a dry bag.
29 - Pencil - Take notes in the reserved pages of the waterproof manual, Leave notes for Search & Rescue.
30 - Bandages (2) - Standard large size 'band-aid' type bandages.
31 - Compass, Fluid Filled (1) – Mineral Oil Dampened compass with degree markings.
---
Double Trouble kit Modified per Scott Stevens Specifications - Quantity, 1 Kit - $75
Quantity, 5 Kits - $350 ($70/ea)
Quantity, 10 Kits - $650 ($65/ea)
Quantity, 15 Kits - $900 ($60/ea)
Quantity, 20 Kits $1,200.00 ($60/ea)
Quantity, 25 Kits $1,400.00 ($56/ea)
(Prices include expedited Shipping, 3 business days)
---
All Text, Graphics, Animations, Video, and Commentary on this website was created by, and is the intellectual property of m4040@m4040.com. All Rights Reserved. Unauthorized reproduction is punishable by up to a $500,000 fine or 5 years imprisonment for a first offense, and up to a $1,000,000 fine or up to 10 years imprisonment for subsequent offenses under the Digital Millenium Copyright Act (DMCA). Requests for use of this material should be forwarded to m4040@m4040.com. Why did I add this disclaimer? SEE WHY.