M40's Wilderness Survival Store
Custom Wilderness Survival Kits, Blades, DIY Kit Items, and Unique Survival Gear Questions? Email: m4040@m4040.com
---
CUSTOM M40 BOWKRI & PROFESSIONAL WILDERNESS SURVIVAL RIG - A TRUE ONE OF A KIND!
Okay... MANY of you have asked me to sell a Bowkri. These are a LOT of work, so I don't plan on doing many, but I do plan to sell a few starting with this one.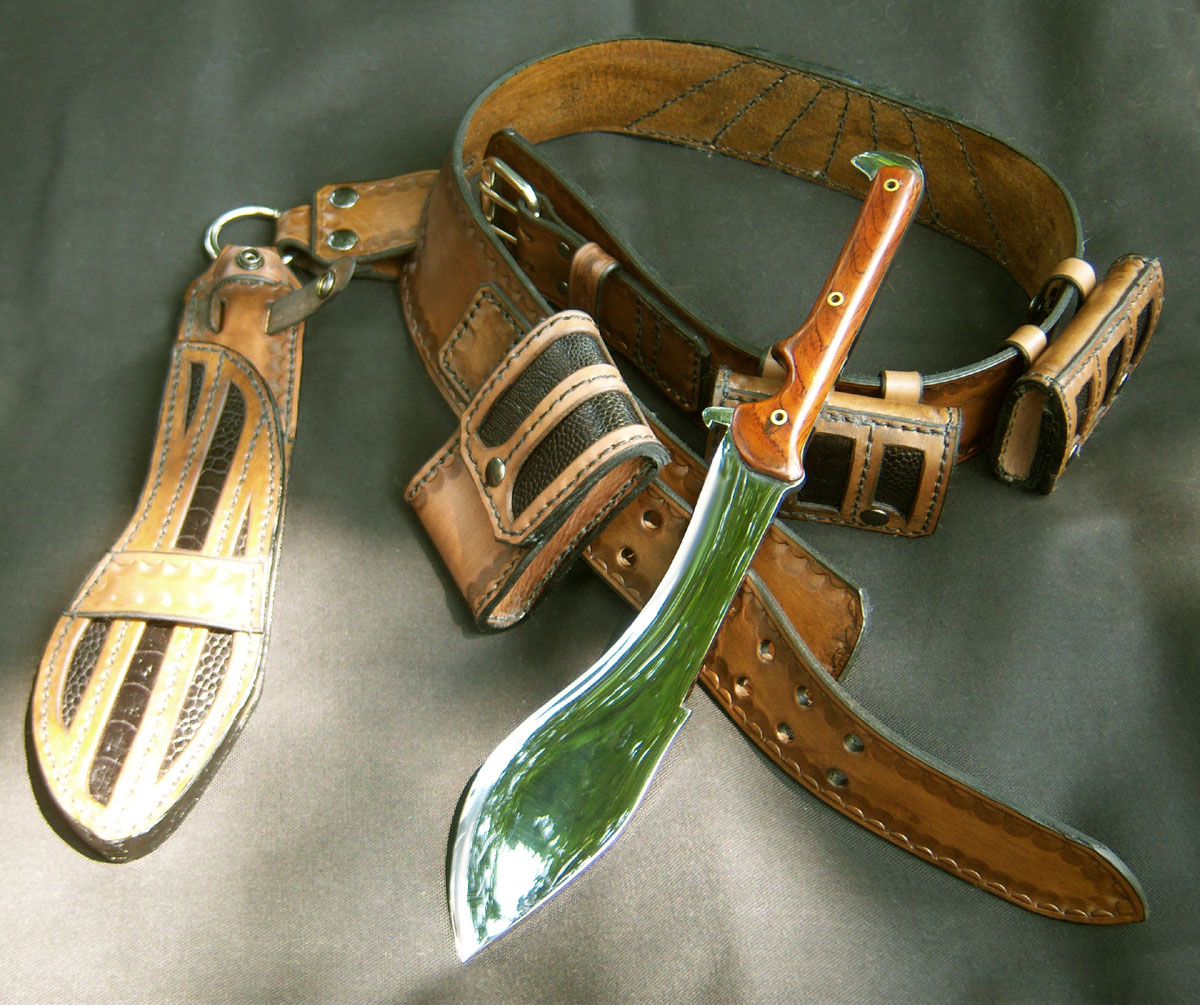 I've done this blade by hand and there's none other quite like it on this earth. It's truly a one of a kind. I decided that the rig should likewise be a true work of art. I had Bruce Nicely at Bay State Leather hand make this rig that includes the sheath, a wide hip-hugging belt and several pouches including one that holds one of my survival kits. (NOTE: Top picture doesn't show survival kit pouch... see below)
Bruce REALLY outdid himself on this one. He did ostrich skin inlays throughout (the black patterned areas) and hand tooled patterns on the rest.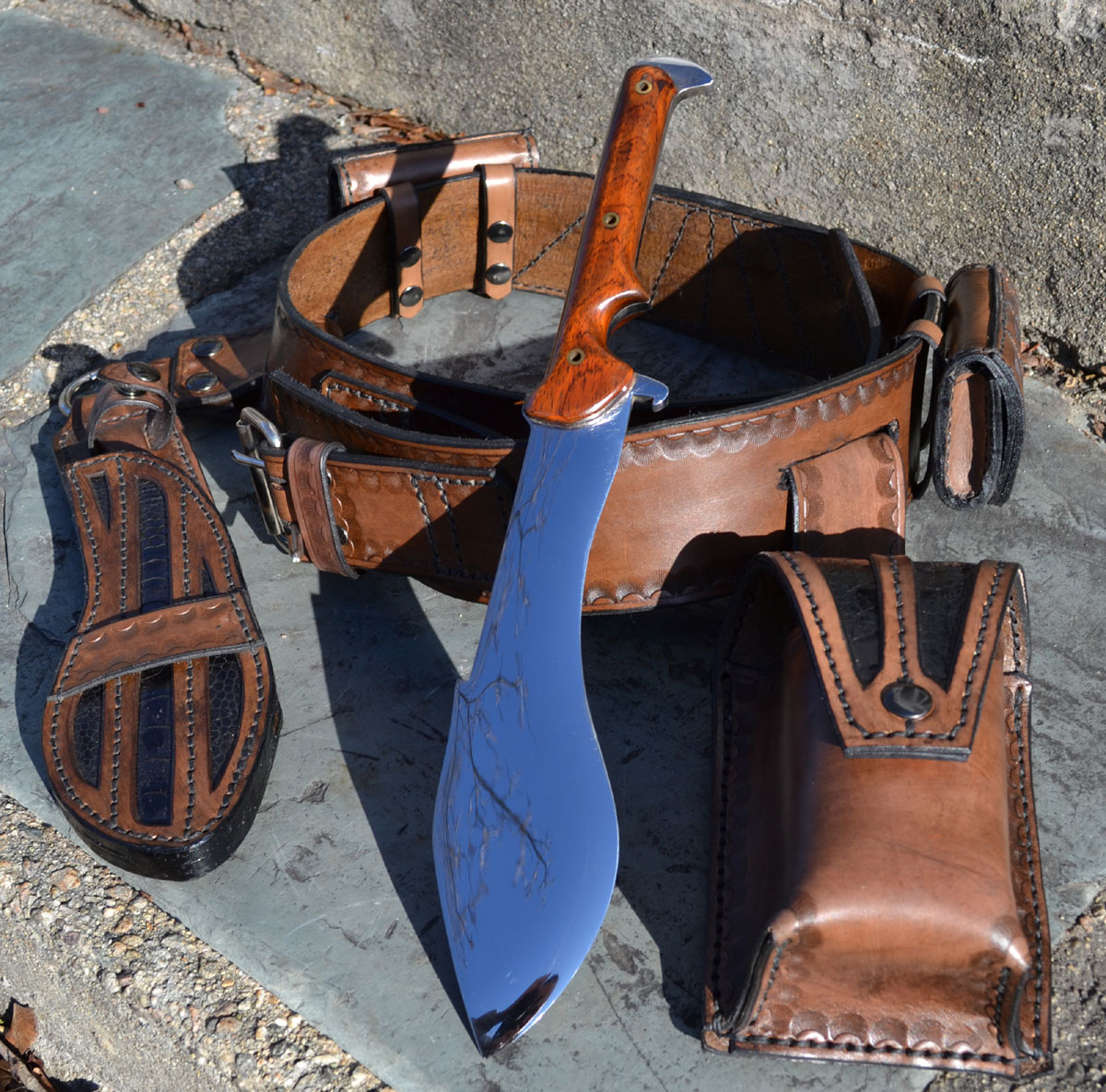 The included survival kit is a custom kit that has everything in my double trouble kits, except that it includes a really nice Leatherman multitool instead of the standard swiss army type blade.
Both the sheath and the survival kit are done in 'dangler' style on steel ring pivots.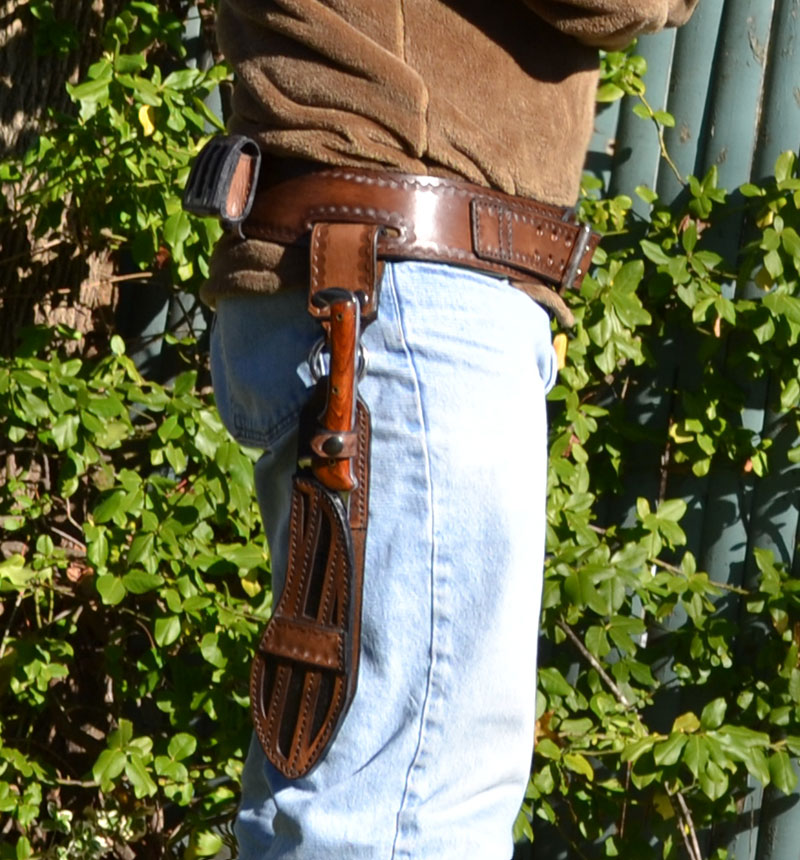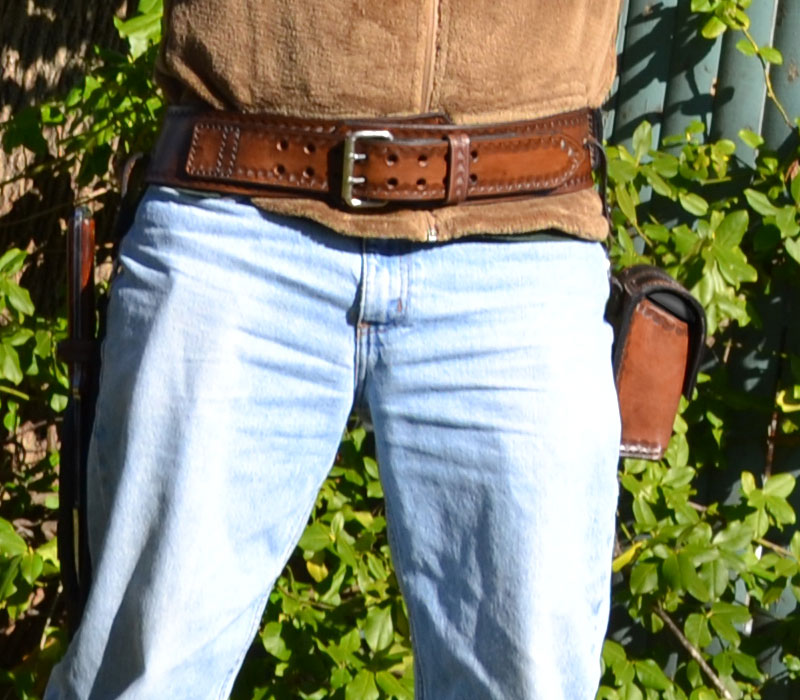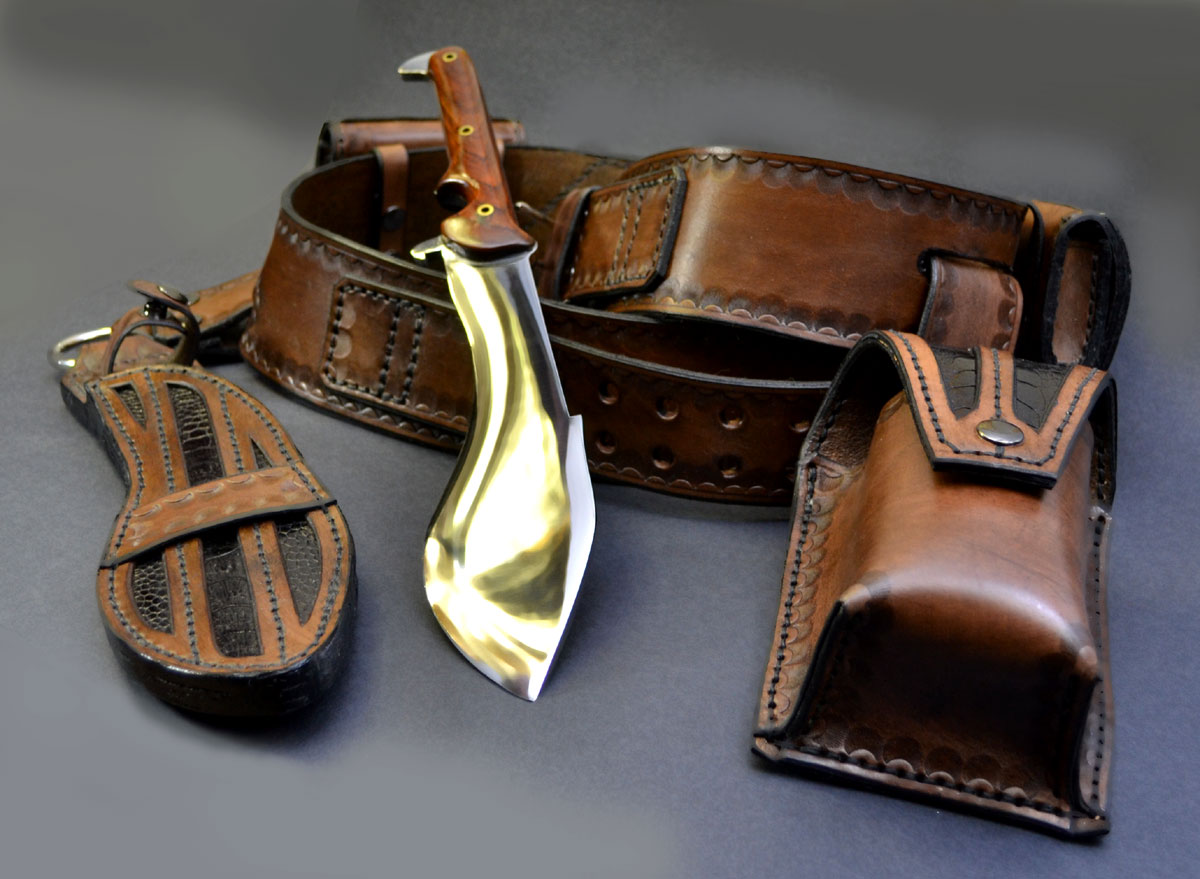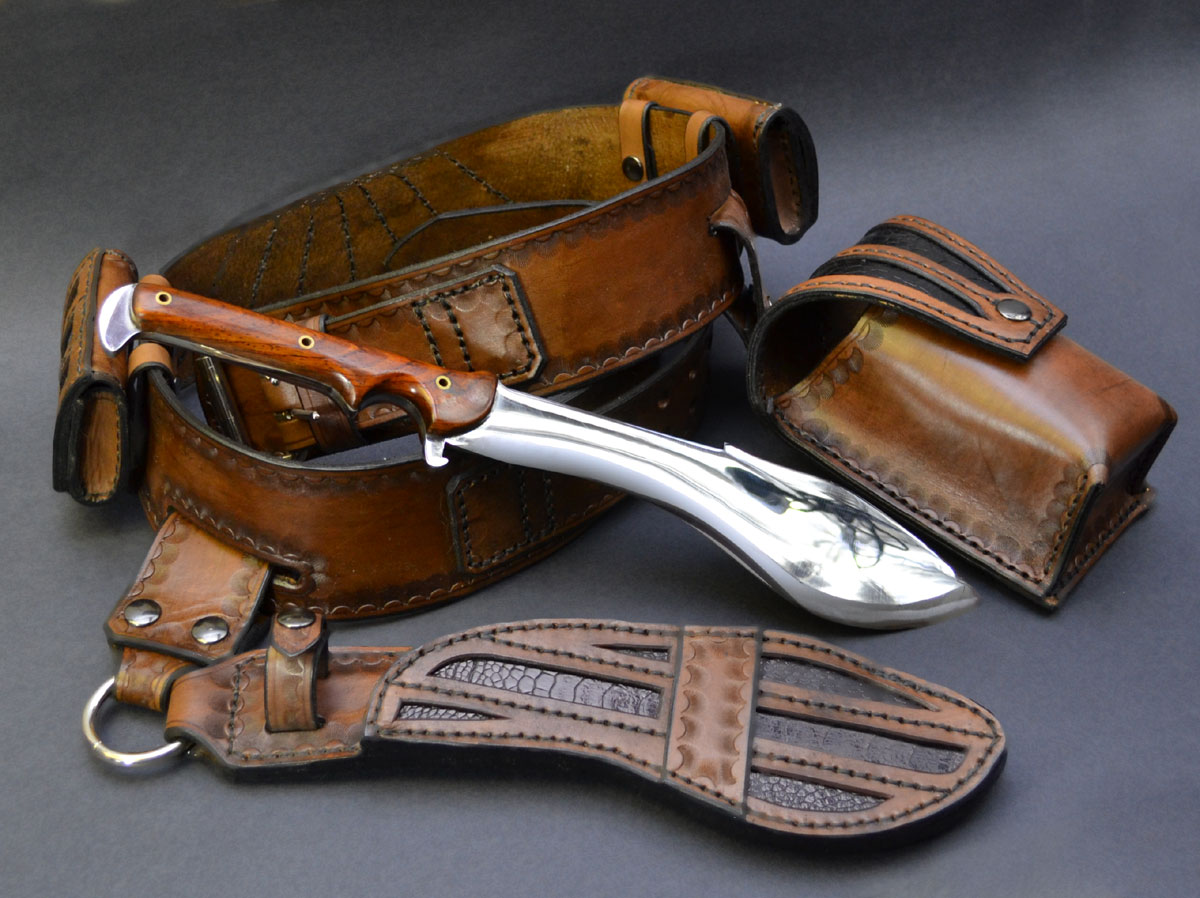 MORE PICTURES TO COME SHOWING CUSTOM SURVIVAL KIT, ETC
I am asking $995 for this complete rig. There's only one, so it will be first come first served. Once it's gone, there will never be another one quite like it. I may make a few more of these in the coming months, but each will be unique and sold to first bidder.
---
All Text, Graphics, Animations, Video, and Commentary on this website was created by, and is the intellectual property of m4040@m4040.com. All Rights Reserved. Unauthorized reproduction is punishable by up to a $500,000 fine or 5 years imprisonment for a first offense, and up to a $1,000,000 fine or up to 10 years imprisonment for subsequent offenses under the Digital Millenium Copyright Act (DMCA). Requests for use of this material should be forwarded to m4040@m4040.com. Why did I add this disclaimer? SEE WHY.