M40's Wilderness Survival Store - The best damn kits on the market, period.
All kits are hand assembled by me in my home, not by a villager in a Shanghai sweat shop!
---
M40 Wilderness Survival Kit - Click Images for Larger View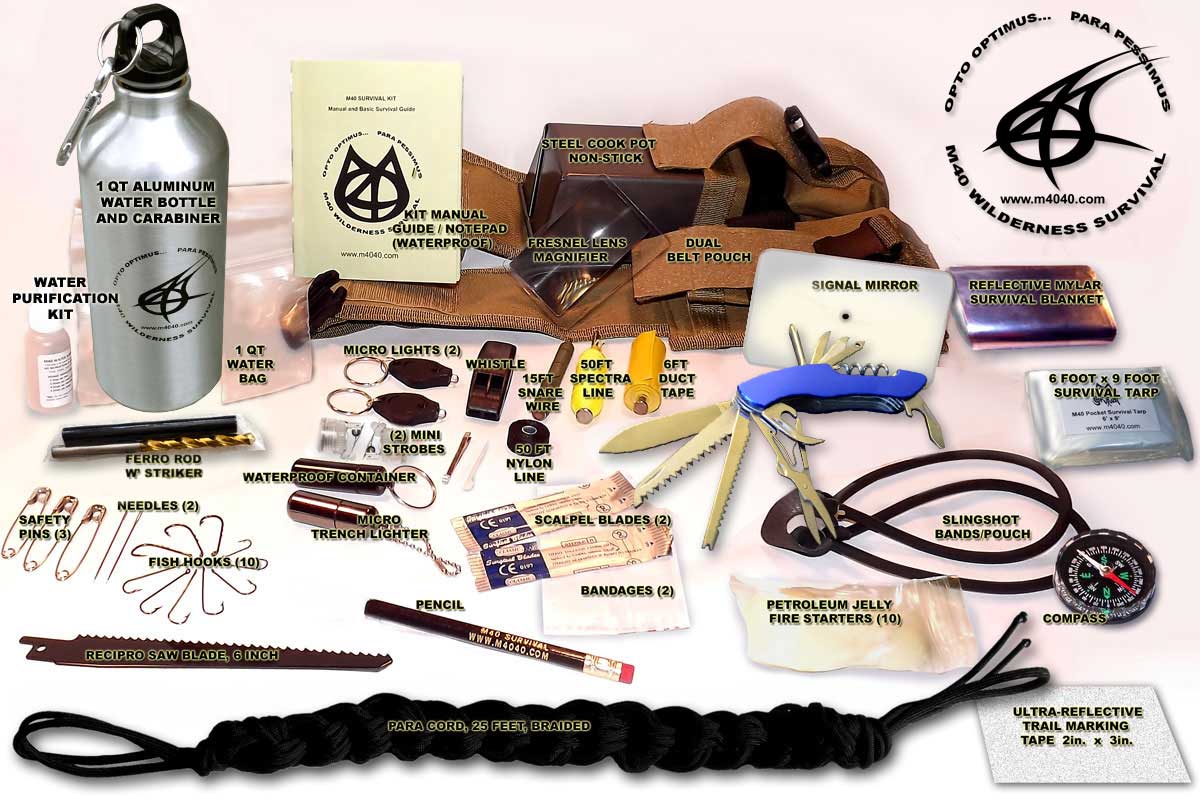 The most comprehensive compact wilderness survival kit on the market. A wide selection of quality gear designed to provide for crucial survival needs. Kit includes multiple tools for fast shelter and fire building, water purification, signaling and food procurement.
See entire kit contents and item details here
Pouch Color Options (L-R):
OD Green (w' Black Hardware) Coyote Tan (w' Black Hardware) Black (w' Black Hardware)
NEW! - Now available in Digital and Woodland Camouflage!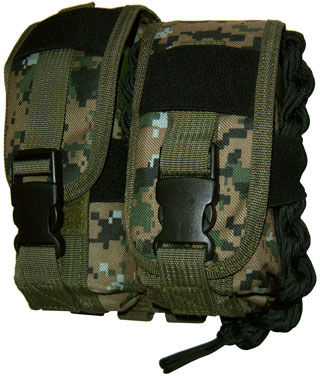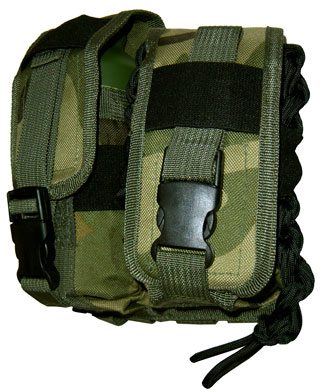 Kit Contents
Cordura MOLLE Belt Pouch (Qty.1) – High quality, heavy cordura nylon, double belt pouch. One side holds the kit and the other holds the water bottle. Stores and protects the kit and water bottle (and any other items you may want to add). Dual closure with both Velcro and cinch straps so your gear stays put no matter what. Stretch loops on top and sides allow stowing of extra gear on the outside of the pouches, and provide compression fit to the pouches. MOLLE compatible... attachment system will attach to belt, pack, or pretty much anywhere.

Heavy Duty Aluminum Water Bottle with Carabiner clip - (Qty.1) – Metal bottle can be used to boil water for purification. Makes a handy canteen for short hikes. M40 Logo and site motto "Opto Optimus... Para Pessimus" (Hope for the Best... Prepare for the Worst). Note: NOT a steel climbing carabiner, but makes a handy gear clip!

Non-Stick Cook Pot (Qty.1) – Quality, rigid steel construction with non-stick coating. Stores the kit contents and protects them from damage. Unlike other kits, you don't have to worry about crushing if you fall or sit on it. Used to quickly boil and purify drinking water and for general camp cooking tasks.

M40 Pocket Survival Tarp – 9' x 6' (Qty.1) – Large enough to cover and waterproof a shelter for several people, yet I fold these into a packet smaller than a deck of playing cards. This fits well in the kit, or in your pocket. Awesome kit item… you won't find anything like this in other survival kits.

Survival Blanket – Silver Mylar - 84" x 52" (Qty.1) – These are thinner and pack smaller than other survival blankets you may have seen. I sourced these specially for this purpose. Reflects body heat inwards to help keep you warm. Use as a signaling device, or to reflect fire heat towards you. Can also be used as a poncho, wind break or ground cloth.

Slingshot Bands (Qty.1 set) - These make it VERY easy to quickly construct a slingshot using a forked stick. Wrap the ends about 180 degrees around a forked stick and cord wrap tightly... presto... slingshot for small game hunting! Also used as a tourniquet or to propel a fishing spear.

Multi Tool (qty.1) – Stainless steel knife/tool set provides blade, saw, can & bottle opener, file, screwdrivers, scissors, awl and more.

Ferro Rod and Striker (qty.1) – about 3/8" diameter by 3" long striking surface. Striker is a titanium nitride coated drill bit (also handy tool for boring holes, shaving tinder, etc). Unit has a varnish coating to protect from oxidation. Shave this coating off one side of the rod before using. Metallurgy designed with extra magnesium so you can shave it for tinder as well as sparks. Make a small pile of shavings, then flip a spark into it to make a white hot flame or use with the petro jelly fire-starters.

Compass (qty.1) – A large compass compared to the button compasses you get in most survival kits. This is about 2" diameter and over Ό" thick. It's filled with mineral oil for movement dampening, and is freeze-proof. Degree markings. A decent quality compass, and big enough for easy navigation.

Ultra Bright Micro Light (qty.2) – These white LED mini lights last a surprisingly long time, and put out a LOT of light for their size. I provide two of these in the kit. One of the best features on these is that they have both a squeeze activation and also an on/off switch for constant, hands-free light. When camping, I wear two of these on a cord around my neck. A quick squeeze if I need to momentarily check something. I switch one on to light the area right in front of me. I turn both on for maximum lighting when I'm walking into the woods to get firewood. In my testing these last about 24 hours each (16 hours bright, then slowly dimming for the remainder). Averaging a few hours use per night, and you'll have a couple weeks of light.

Strobe Light (qty.2) – A Multi-colored strobe light for signaling. flashes red and blue emergency colors, with white added for brightness. They can be seen from a long distance at night. In my testing, these last up to 48 hours (about 24 hours bright, then waning in brightness). That's a couple weeks signaling for several hours a night

Micro 'Trench' Lighter (qty.1) – Flint/fuel based refillable aluminum lighter has a screw top with a watertight/airtight gasket. These will run on pretty much any flammable liquid (gas, kerosene, Zippo fluid, Coleman fuel, lamp oil, alcohol, etc). These use standard Zippo style flints and wicks, so they might just last you a lifetime. NOTE: These come UNFILLED. If I were to add 5 cents worth of fuel, it would incur a $25 Hazardous Materials shipping charge, so you'll want to pull this item out and fill it before using the kit!

Watertight Aluminum Match/Tinder Case (qty.1) – Store tinder, matches, medications, etc… you decide. These are great little containers for those items that absolutely MUST stay dry.

Emergency Signal Whistle (qty.1) – A loud whistle for signaling to rescuers or trail companions should you become separated. Much more effective than yelling. Very durable construction, and has a built in pocket clip and lanyard hole.

Water Purification Kit with Dosage Instructions (qty.1) - Holds enough to purify about 70 gallons of water. Fill canteen or bottle from streams, ponds, puddles or swamps. Following the printed instructions, add drops and wait 15-20 minutes and water is safe to drink. You will fill and refill this dropper as needed... full instructions provided.

Braided SPECTRA Line 100Lb test - 50 Foot Spool - Stronger than Kevlar or steel, Spectra fiber is used in the latest bulletproof vests. In stores and online, you'll typically pay anywhere from 6 to 10 cents a foot. It's normally only available in big spools costing from $50 up to $200 or more. Use it as primary cordage for shelters, bow strings, lashing, fishing, or anywhere else you need extremely tough cord. Spooled on a 10D nail, which is also useful for shelters and tools!

Steel Snare/trip Wire – (15 Foot Spool) - Annealed steel wire at the perfect hardness for making small game snares. Also use for trip lines, repairing/making gear, etc. Approximately 15' spooled around a 10D nail. The nail is also useful for shelters, spear tips, etc.

Petroleum Jelly Fire Starters (10) – These light very well with a spark from the Ferrocerium rod, and each will burn for several minutes allowing you to easily start a fire, even in somewhat poor conditions. They come tightly packed in a small resealable zip bag. The petroleum jelly is also useful for treating chapped lips, dry skin and small wounds.

Recipro Saw Blade, 6" (Qty.1) – These make for handy saws for shelter construction. Simply find a suitable stick for a handle, saw a notch into the end, insert the blade and tightly wire wrap it using a couple feet of snare wire.

Signal Mirror, 3" x 4", Acrylic (Qty.1) - Large acrylic signal mirror with sighting hole for aiming. Use the sun to signal faraway search and rescue personnel and aircraft.

Fresnel Lens Magnifier (Qty.1) - Credit card size. Used to start fires or close up inspection. A solar powered lighter that NEVER runs out.

Duct Tape, Hi-Vis (5Foot Spool) – This is quality 3M/Scotch brand duct tape in Hi-visibility yellow. Ultra sticky, perfect for repairs, signaling and for marking trail.
Spooled on a 10D nail, which is also useful for shelters and tools!

Kit Manual, Basic Survival Guide and Note Pad – 24 pages printed on waterproof paper! You can use this in the rain without fear. I use only quality 'Rite in the Rain' paper to make these. The survival guide is packed with info and tailored for use with the kit. 18 pages of small print info with diagrams and easy to use instructions and pointers. There are also 6 pages reserved for your notes or to leave directions for rescue, use as tinder, etc.

Ultra-reflective 'Cat-eye' Trail Marker, Adhesive, 3"x2" Piece - This is the same glass bead impregnated material used in street signs and other 'retro-reflective' safety gear. When cut into quarter inch squares, this yields almost a hundred stick-on trail markers. Using the mini lights, these can be seen from 50 yards. The brighter the light, the greater the distance and visibility. Placing these at 50 yard intervals, you can mark about 3 miles of trail. If you decide to leave camp, you can leave a trail for search and rescue. Use these to tape notes in conspicuous places for rescuers. Makes your notes visible from a LONG way off.

PARA CORD - 550Lb Test - 25' Hanked (braided) - Mil spec para cord is so named because it is used as the standard shroud lines for parachutes. It has a braided outer sheath and 7 inner strands (outer sheath is @200Lb test, and each inner strand is @50Lb test). Paracord is unique in that its components can be pulled apart and used separately for additional line. If you pulled out all the inner strands, and tied them together, you'd have 175 feet of 50 pound test line, while still having the outer sheathing as an additional 25 foot line. Like duct tape, para cord has about a million uses in the wild.

Spool, Heavy duty 25 Lb test Nylon Line – approx. 50 feet - Used for fishing, sewing, shelter bindings, etc.

Scalpel Blades (qty.2) – Sharp, sharp, sharp! These can be lashed to a small twig for use in skinning, gutting, cleaning, etc, and they also serve as formidable arrow/spear tips.

Safety Pins, XLG, (Qty.3) - these are large (2 inch) nickel plated safety pins. Great for fast emergency repair of tears to jackets, clothing and other gear.

Needles, LG, (Qty.2) - These are large, thick needles with big eyes. You wouldn't want to attempt fine embroidery with these, but I spec'd them big enough to be threaded and used with cold hands.

Fish Hook Assortment – Qty 10 - Various Sizes – Can be used individually, but I recommend using most or all of these at once along a single line (see Absentee Fishing).

Zipper Lock Water Bag (1Qt) - Use for storing, transporting. or purifying water with the Water Kit. Also used as a dry bag for your personal items (cell phones, GPS, etc).
Other Items - Pencil, Bandages (2)

---
FORUM 'RULE OF THREES'
Short Version - (1) Be Topical. (2) Be Original. (3) Be Nice.

Long version:
(1) Stay on topic - If the discussion wanders off topic or into nonsensical rambling, I will remove your comments. Repeated abuse will result in you being banned from posting here. If you post blatant spam here, I will ban you from this forum AND... I will submit you for removal from ALL Disqus forums.

(2) Be original in your postings. I will not tolerate lengthy cut and pastes, especially if you are not the author of said material. There is such a thing as copyright law, and I will quickly ban those who attempt to pass off the writings of others as their own.

(3) Please be nice... we all know what this means. I will not let those with "internet balls" turn my forums into gripe sessions, heated arguments or slanderous turd-hurling contests. There are no stupid questions... (okay maybe there are, but please remember that not everyone is a "survival expert"). Therefore, all questions should be considered valid as long as they meet the criteria of rules 1 and 2.
---
FORUM - M40 'Original' Kit Discussion - NOTE - For discussion on a different kit/subject, please navigate to that subject's page and use that forum!
---
---
All Text, Graphics, Animations, Video, and Commentary on this website was created by, and is the intellectual property of m4040@m4040.com. All Rights Reserved. Unauthorized reproduction is punishable by up to a $500,000 fine or 5 years imprisonment for a first offense, and up to a $1,000,000 fine or up to 10 years imprisonment for subsequent offenses under the Digital Millenium Copyright Act (DMCA). Requests for use of this material should be forwarded to m4040@m4040.com. Why did I add this disclaimer? SEE WHY.