All Text, Graphics, Animations, Video, and Commentary on this website was created by, and is the intellectual property of m4040@m4040.com. All Rights Reserved. Unauthorized reproduction is punishable by up to a $500,000 fine or 5 years imprisonment for a first offense, and up to a $1,000,000 fine or up to 10 years imprisonment for subsequent offenses under the Digital Millenium Copyright Act (DMCA). Requests for use of this material should be forwarded to m4040@m4040.com. Why did I add this disclaimer? SEE WHY.
---
SLINGSHOT
---
The PowerBand kit included in my SURVIVAL KIT, can be used in conjunction with a little bit of whittling skill to create a slingshot. Shown below is the most basic slingshot construction technique. If you are familiar with slingshots, and know how to use one, then this is definitely something that you should pack in a survival kit!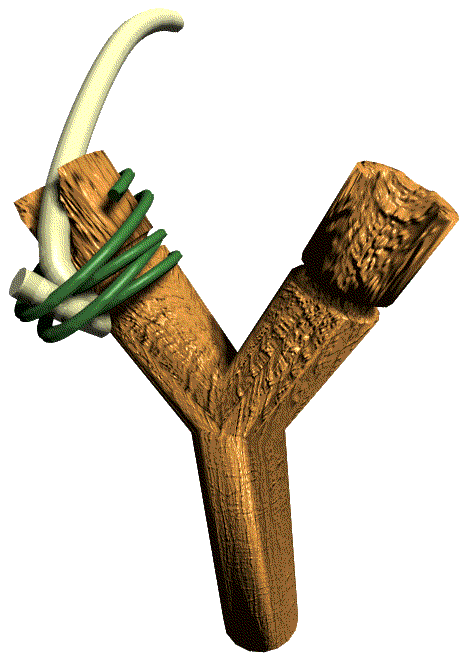 NOTE: The rings are cut into the forks of the wood in order to help fix the bands. The bands are tied to each fork with Para Cord allowing about an inch to protrude beyond the tiedown. These ends are then folded upwards and wrapped tightly with cord as shown.
---
CLICK HERE TO RETURN TO SURVIVAL KIT LISTINGS PAGE
CLICK HERE TO RETURN TO PRIMITIVE HUNTING AND SNARING PAGE