All Text, Graphics, Animations, Video, and Commentary on this website was created by, and is the intellectual property of m4040@m4040.com. All Rights Reserved. Unauthorized reproduction is punishable by up to a $500,000 fine or 5 years imprisonment for a first offense, and up to a $1,000,000 fine or up to 10 years imprisonment for subsequent offenses under the Digital Millenium Copyright Act (DMCA). Requests for use of this material should be forwarded to m4040@m4040.com.
---
REMOVAL OF THE GHURKA HANDLE
---
The Ghurka handle is riveted in place, and the rivets will need to be drilled on one side and then driven out with a punch and hammer as shown in the diagram below.
Once the pins are removed, the handle can be tapped free with the hammer.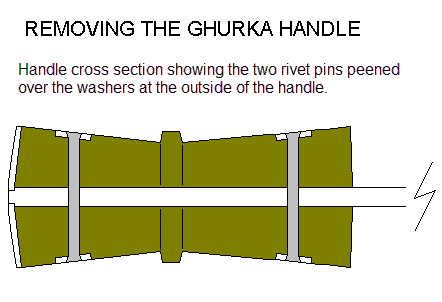 NOTE: Unless you plan on making your own handle, you should not remove these, as it is easier to reshape the existing handles while they are still attached.
-M40-
---
Return to M40's Ghurka Modification Page