All Text, Graphics, Animations, Video, and Commentary on this website was created by, and is the intellectual property of m4040@m4040.com. All Rights Reserved. Unauthorized reproduction is punishable by up to a $500,000 fine or 5 years imprisonment for a first offense, and up to a $1,000,000 fine or up to 10 years imprisonment for subsequent offenses under the Digital Millenium Copyright Act (DMCA). Requests for use of this material should be forwarded to m4040@m4040.com.
---
FIELD BLADE REVIEWS
---
Becker Brute - All Business, but Out of Business?
What can I say that I haven't already said about the Becker Brute? The Brute is one of my all-time favorite workhorses. I have literally chopped a mile of trail with one of these, and have still been able to mow some hair from my arm. This is what great blades are supposed to be. The Brute is all business, but is unfortunately... out of business.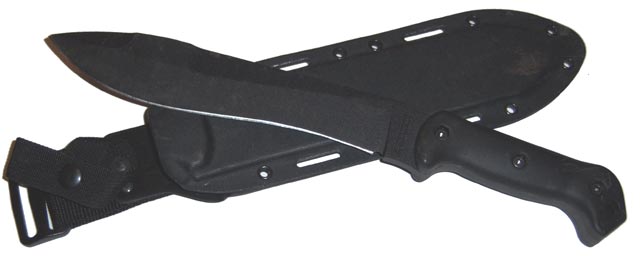 Most websites are now showing this blade as being discontinued and out of stock. As far as I can tell, the Brute suffered from an incredible lack of exposure in a world full of over-hyped, overpriced blades. There are still a few available for sale out there, so gobble them up while you can.
THE LATEST
Ethan Becker - Becker Knife and Tool

Believe it or not, Ethan Becker is among other things, the editor of the famous cookbook, "Joy of Cooking". He's an accomplished cook who was schooled in Paris as a chef. It's a strange dichotomy that he is also the designer of one of best lines of hardcore outdoor knives in the industry. Ethan and his wife, Susan, a writer, editor, and artist, live in east Tennessee at their home, Half Moon Ridge.
Becker Knife and Tool was a successful company several years ago but closed as Mr. Becker changed his priorities back to the world of cooking. Becker Knives briefly came back under the cutlery company Camillus, but Camillus has seemingly squandered much of their reputation, and has now been bought out by Acme United. Let's hope Acme returns this once proud company to it's former status.
THE SAD TRUTH... Unfortunately, my guess is that Acme will pull a corporate decimation of Camillus and begin marketing crappy China-made blades under their once-proud name.

For more information on the Becker line and all of Camillus' blades, contact: Camillus.support@acmeunited.com
( Please let them know how you feel about the Camillus name and their quality blade lines! )
If you want a suitable alternative to the Brute, please see THIS PAGE!
---
Return to M40's Ghurka Modification Page