All Text, Graphics, Animations, Video, and Commentary on this website was created by, and is the intellectual property of m4040@m4040.com. All Rights Reserved. Unauthorized reproduction is punishable by up to a $500,000 fine or 5 years imprisonment for a first offense, and up to a $1,000,000 fine or up to 10 years imprisonment for subsequent offenses under the Digital Millenium Copyright Act (DMCA). Requests for use of this material should be forwarded to m4040@m4040.com.
---
Latest Grinds
---
VISIT M40's WILDERNESS SURVIVAL STORE

The best wilderness survival gear on the market!

Backyard campers and Rambo wannabe's... go buy a Bear Grylls kit. When you get serious about your wilderness activities... come see my gear. Hikers, mountain bikers, cross country skiers, ATV'ers, off-roaders, and others whose activities carry them far and wide... discriminating outdoorsmen opt for quality gear.
---
Hereís a sneak peek at my latest bowie and a necker. Thereís a few pics (below).
Here it is rough cut and ground from 1095 bar stock (1/4" thick x 2" wide stock).
Here it is after some final shaping and clean up...


Handle drilled for scales and lanyard...

Here's a close-up of a guard I'm working on. It's a metal casting in a lead-free pewter alloy. I've been using a Lee lead furnace to accomplish the melt, and making clay molds to pour into. This is not finalized, but gives an idea of what I'm trying to accomplish.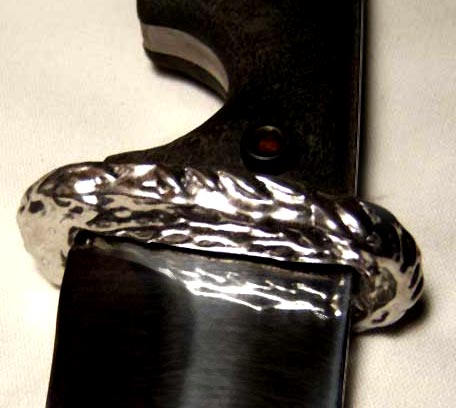 I just did the final heat treating and I'm doing a good bit of buffing to bring it to mirror finish. I had to think about it for a while before I heat treated... that probably negates any chances of engraving the blade. I do have some mask material and acid etch solution, so I may try my hand at some custom etching. Maybe some filigree and my makers mark. Just what I need... another hobby.
And hereís the custom necker I just finished. Itís ATS 34, so it wonít rust on me. Itís also ľĒ thick which is absurdly thick for a necker, but it feels nice and hefty in the hand. Itís also scary sharp.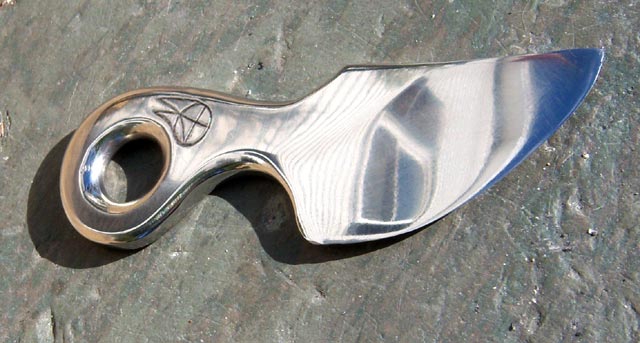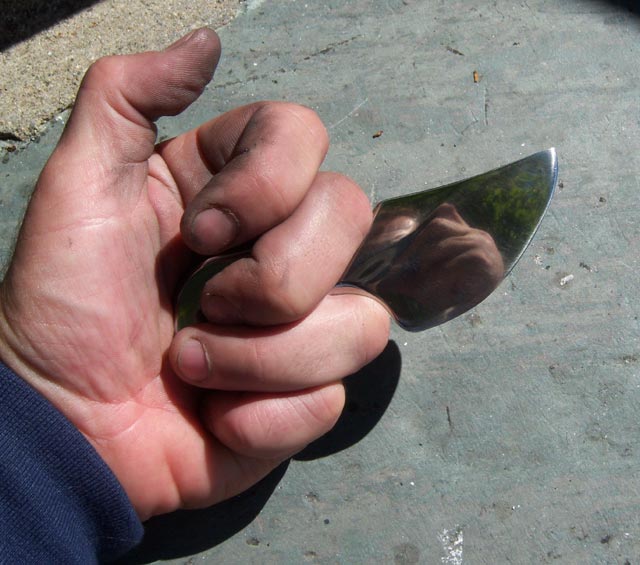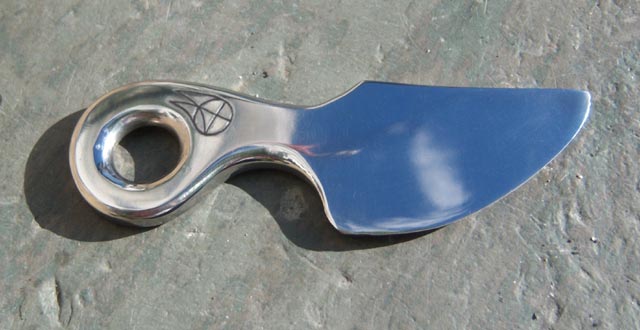 Makers marks are simple Dremel engravings with a carbide bit.
More to come..
-M40-
---
Return to M40's Ghurka Modification Page