All Text, Graphics, Animations, Video, and Commentary on this website was created by, and is the intellectual property of m4040@m4040.com. All Rights Reserved. Unauthorized reproduction is punishable by up to a $500,000 fine or 5 years imprisonment for a first offense, and up to a $1,000,000 fine or up to 10 years imprisonment for subsequent offenses under the Digital Millenium Copyright Act (DMCA). Requests for use of this material should be forwarded to m4040@m4040.com.
---
Latest Designs - the 'Bulldozer'
---
VISIT M40's WILDERNESS SURVIVAL STORE

The best wilderness survival gear on the market!

Backyard campers and Rambo wannabe's... go buy a Bear Grylls kit. When you get serious about your wilderness activities... come see my gear. Hikers, mountain bikers, cross country skiers, ATV'ers, off-roaders, and others whose activities carry them far and wide... discriminating outdoorsmen opt for quality gear.
---
OVERVIEW
This design is one that I've been mulling over for some time now. The goal is to design an incredibly tough blade that will achieve superior chopping power.... BUT... to do this in a relatively small package. This is based on a lot of folks writing in to tell me that, although it may be nice to have a large bowie, it doesn't lend well to state parks or other regions where hikers and campers may give you some funny looks at the sight of a large blade dangling at your side. Thus, I need to come up with a real chopper that will fit in your pocket, or in a high ride holster under the shirt.
To chop with a short blade, you need some weight up front, but without increasing the overall length. As such, both the width and the thickness may need to be increased. I plan on eventually making this out of 5/16" or possibly even 3/8" thick 5160. This design allows you to choke up close on the blade when performing detailed work, but when gripped by the large ring at the rear, will allow a decent chopping stroke. The geometry and weight balance should approximate a short hatchet.
I'm going to keep this one simple, with a cord-wrapped handle, Gun-Kote and a kydex sheath.
---
PROTOTYPE I
The most suitable bar stock I have on hand is 3" wide, and it's 1/4 inch thick 5160 spring steel. Eventually, I'd like to try thicker steel for even more mass.
First, I have to cut the shape. I typically use a plasma cutter to rough the shape slightly larger than what I'll eventually need. In the picture below, you can see that I use a metal trash bucket with a little water in the bottom to catch all the flying hot slag. As you can see, I've already used this billet of steel for another blade as well. Waste not your steel young jedi!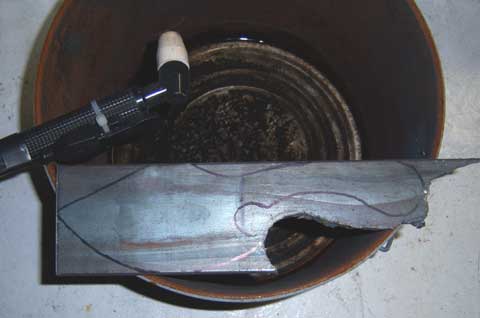 I didn't take any pictures during the cut or grind on this prototype. When I do a final version, I'll document in more depth. Here's a couple pictures of the blade after grinding, heat treat, sandblast, phosphate, Gun-Kote and a simple cord wrap: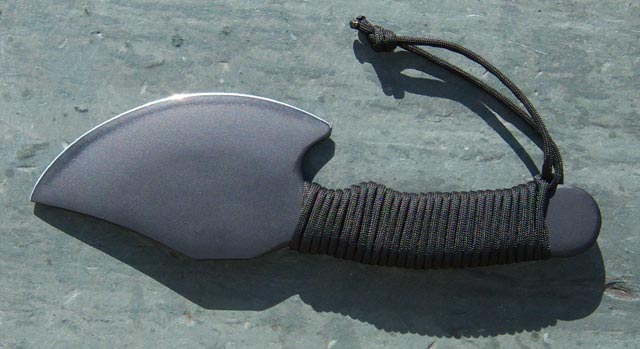 I'm just testing the heft and feel for now, as well as some chopping duty. I have some saplings I need to clear tomorrow.
Here's some coins and a lighter to show scale. Also, I've built a small pancake style Kydex sheath. This prototype fits nicely in your back pocket with only a few inches of the handle hanging out. It will disappear in a front pocket, and the paddle style sheath hides the outline nicely.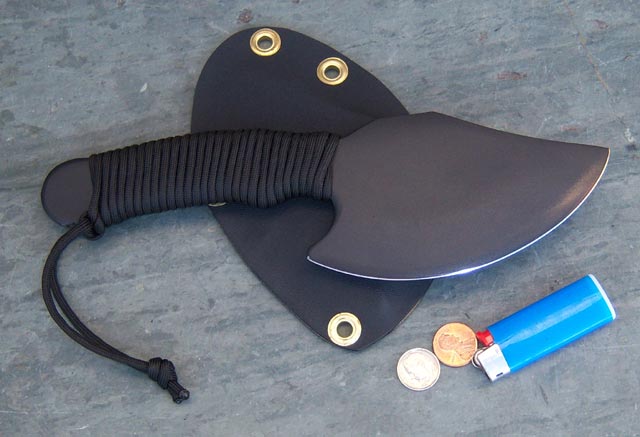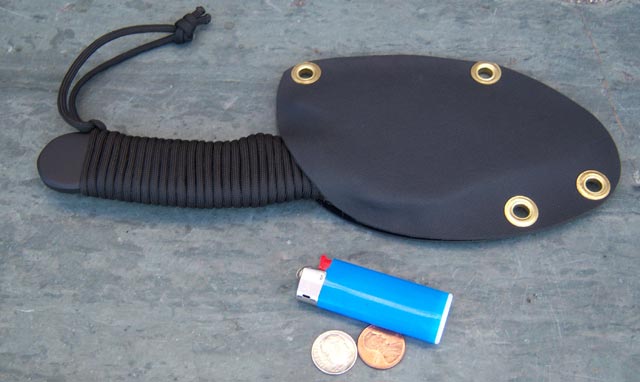 ---
Prototype II
After testing prototype I, I decided that a larger blade was probably warranted for pure, brute chopping power. The first prototype was okay at chopping, but I wanted more handle and more blade mass. As for the handle, I also the "knob" at the end of the handle to be larger for a better grip when chopping. Here's what I came up with: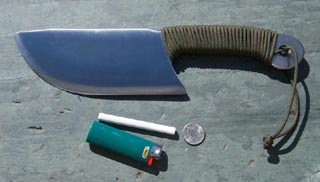 As you can see, It's definitely more massive... probably too massive!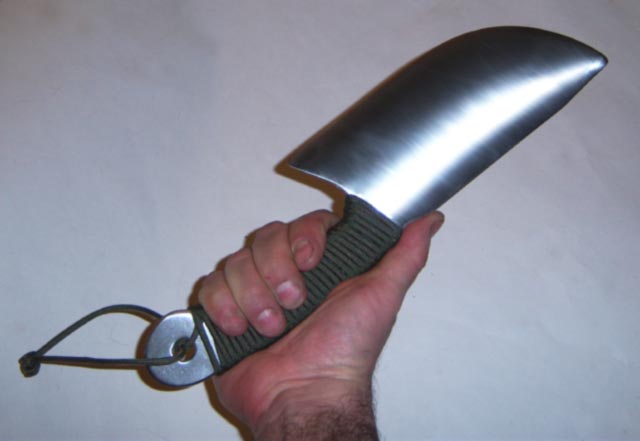 In my testing (beating up some different hardwoods from my woodpile), this prototype has awesome chopping power. I think the knob at the back is a keeper. This blade is great for what it's worth, but one of the goals is to make this blade somewhat concealable. It must ride nicely under a shirt or in a back pocket, and this one fails in that regard.
---
PROTOTYPE III
Here's my next revision with a little smaller blade, but keeping the long handle and rear knob.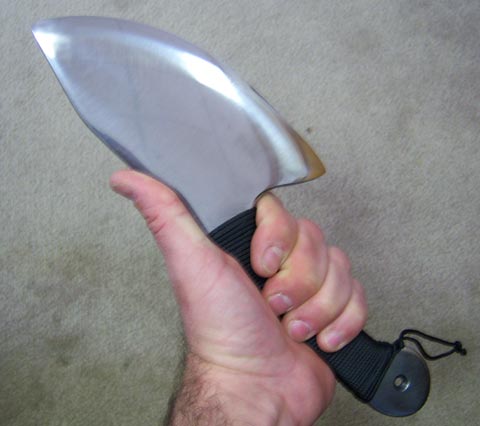 This one seems to work really well in my initial tests. It fits in a pocket with only the handle exposed, and so far chopping is outstanding. Time to clean it up!
First, I enlarged the hole at the rear a bit. Next, I did an acid etched design on both sides of the blade. Then I did another hardening and tempering cycle. A good cleaning and a lot of buffing, and it's starting to look nice...

Finally, I rewrapped the handle with a double layer wrap of green paracord:
This design seems to be shaping up nicely. When you hold it up at the front of the grip, it's great for whittling, shaving, carving, skinning, and other close-up tasks where you need precise control: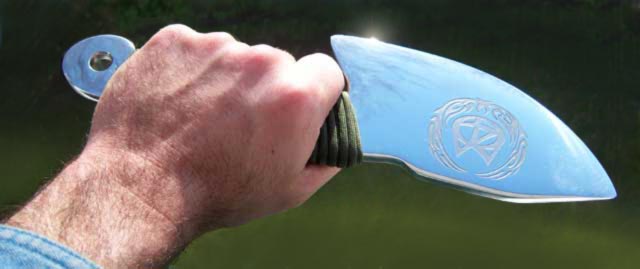 When held at the rear with the knob in your fist, it's a hell of a chopper with the approximate heft and balance of a small hatchet: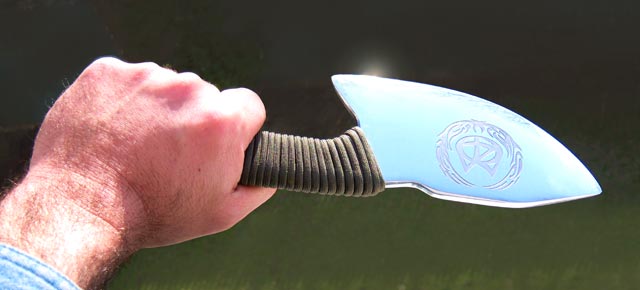 Finally, I'm still working on the pancake style paddle sheath for this one, but the prototype rides nicely in a front or back pocket with just a little handle showing. This is easily hidden under a tee shirt.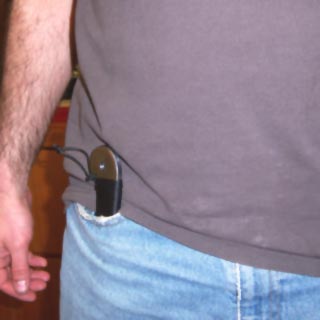 - M40 - Updated April 22nd, 2008
Another Bulldozer type blade I made recently
(Update - Sept, 08)

Still more work to do on this one, but it's shaping up nicely.
---
Return to M40's Ghurka Modification Page